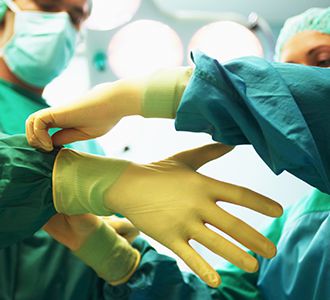 Your partner in infection control
While endoscopes are a critical component of nearly every clinical specialty, they are notoriously hard to clean. Unfortunately, incomplete or insufficient cleaning can lead to cross-contamination and the spread of dangerous microorganisms. That's where the EndoSheath® protective barrier comes in.
What is the EndoSheath protective barrier?
The EndoSheath protective barrier is an FDA-cleared, sterile, single-use product with an integrated working channel, for use with Cogentix Medical's state-of-the-art PrimeSightTM flexible endoscopes and imaging technology.
The EndoSheath protective barrier covers the endoscope from end to end to create a barrier between the endoscope and patient which protects the endoscope controls from contamination during the procedure. Since the disposable EndoSheath protective barrier includes a working/operative channel for suction, irrigation, and tool passage, physicians can use the product during a full range of diagnostic and therapeutic procedures. The EndoSheath product is available in multiple working channel sizes, allowing you to adapt the scope to fit the procedure.
Using the EndoSheath product eliminates the need for conventional high-level disinfection/sterilization routines between each procedure. Instead, you get a safe, sterile protective barrier for each patient and rapid equipment turnaround for the practice.
How do you use the EndoSheath protective barrier?
Prior to each procedure, the endoscope is placed inside a new, sterile EndoSheath product. The combined system functions like a conventional endoscope. When the endoscopy procedure is finished, the EndoSheath protective barrier is removed and discarded. The endoscope is then prepped for use on another patient with a new, sterile EndoSheath protective barrier.
Reprocessing in less than 10 minutes
See Instructions for Use for complete detailed reprocessing routine
The endoscope is visually inspected to confirm that the areas are dry
The endoscope is wiped down with EndoWipe® enzymatic detergent
The endoscope is rinsed
The endoscope is wiped with an EndoWipe 70% ethyl alcohol wipe
Once the endoscope is dry, it may be placed inside a new, sterile, single-use EndoSheath product for the next procedure.
What it means for your endoscopy practice
Using the PrimeSight endoscopy system, along with the EndoSheath barrier, changes the paradigm of endoscope handling and reprocessing.
Endoscopes can be prepared without the complexity, time-consuming, training-intensive, and mistake-prone conventional HLD/Sterilization routines.
Eliminates the difficulties of scrubbing and flushing endoscope channels to ensure organic material is removed from both outside and inside the instrument.
Staff and equipment exposure to caustic chemicals is reduced, increasing both staff safety and equipment longevity.
By dramatically reducing equipment turnaround time, the endoscopy practice can meet the necessary demands of today's busy schedules without having to invest in a large inventory of endoscopes.
Regulatory highlights
EndoSheath Technology is FDA Cleared, CE Marked, and CDC Recognized
Included in the ANSI/AAMI ST91:2015 National Standards for Flexible and semi-rigid endoscope processing in health care facilities
Noted in the HICPAC Guideline for Disinfection and Sterilization in Healthcare Facilities
Included in the AUA/SUNA Guidelines for Cystoscope Reprocessing
Over 30 research studies performed on EndoSheath Technology since 1992
EndoSheath product highlights
Provides a proven effective barrier to 27 nanometers per FDA requirements and testing
Over 5 Million sold without a single reported complaint of patient-to-patient cross-infection
Used in a number of the top 25 Hospitals highlighted in U.S. News and World Report Best Hospitals: Overview and Honor Roll
Used with intermediate level disinfection routine provides a safe and always ready instrument
Designed to stretch and keep their integrity, and not to tear or break during procedures
100% leak tested before they are sold
FDA cleared and CE marked
Addresses concerns over biofilm, bioburden, and issues of improperly rinsed devices as all patient contact areas are new, sterile and disposable
Easy to use and prepare; limits the complexity of endoscope preparation
Product availability
PrimeSight endoscopy systems are available for urology, gynecology, bariatric medicine, critical care, gastroenterology, otolaryngology and pulmonology.
Learn more about PrimeSight Endoscopy and the EndoSheath Protective Barrier.